Lobby Art Gallery : Open Tuesday - Friday 12pm - 5:30pm, Saturday 9am - 12pm or by Appointment.
Brushwork Barre, and Beyond
(October 5th 2022 - January 7th, 2023)
Artist's Statement
Tracey J. Hambleton
traceyjhambleton@gmail.com
(802)595-4532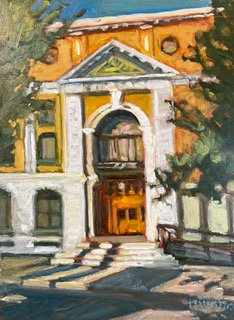 I've been a practicing plein air painter since 2010. For most of the year I take
a small tripod-mounted easel and my painting supplies outside. My focus is to
paint the familiar views that I see everyday. Each painting is a new experience
as I record the ebb and flow of the world around me, focusing on the
changing light, shadows and temperature.
If weather keeps me in studio I find inspiration from the views outside my windows.
I also scout for new inspiration often and use my photos from these forays for
studio work. My challenge is always to maintain the freshness of a plein air
painting, the spontaneity of my brushwork, and the feel of the paint itself.
My 11-month residency at Studio Place Arts gave me the opportunity to explore
Barre's landmark buildings, iconic industrial areas, hillside houses,
and crisscrossing tracks of the railroad. I've painted the remnants of the late
19th century entwined with the personality of current neighborhoods;
the juxtaposition between modern functionality and historic architecture;
the enduring evidence of Barre's granite industry and its renowned stone carvers;
the labor movement championed by Italian and Scottish immigrants.
Though sometimes gritty, weathered, imperfect or worn, the landscape of Barre,
and beyond, keeps me inspired. The shadows cast from church steeples, the
glow on farm fields, the color of granite, the foursquare roof-lines, the evidence of
changing times and the people who live and work here—these are things I hope to
preserve with my paintings.
PLEIN AIR
The French term plein air means out of doors
and refers to the practice of painting entire
finished pictures out of doors
Vermont artists interested in exhibiting their work at Barre Opera House Lobby Gallery, please call Michelle La Barge-Burke at (802) 476-0293 or email projects@barreoperahouse.org