Lobby Art Gallery Hours: Tuesday - Friday 12pm - 5:30pm, Saturday 9am - 12pm or by Appointment.
"Detournement"
(January 20th, 2023 - April 1st, 2023)
Nitya Brighenti
o.brighenti@hawaiiantel.net
Open Reception is scheduled for Friday, February 3rd from 4pm - 5pm in the Lobby Art Gallery
"I tried..to paint the Eastern countries, our cities and landscapes, the audacities of the revolutionaries, the inspiration of the poets, the meekness of the pets, thunderous stormy nights, the spirit of my wife, the French philosophers, memories and visions...ahime, the result is meager but keeps me going for a better day to be" - Nitya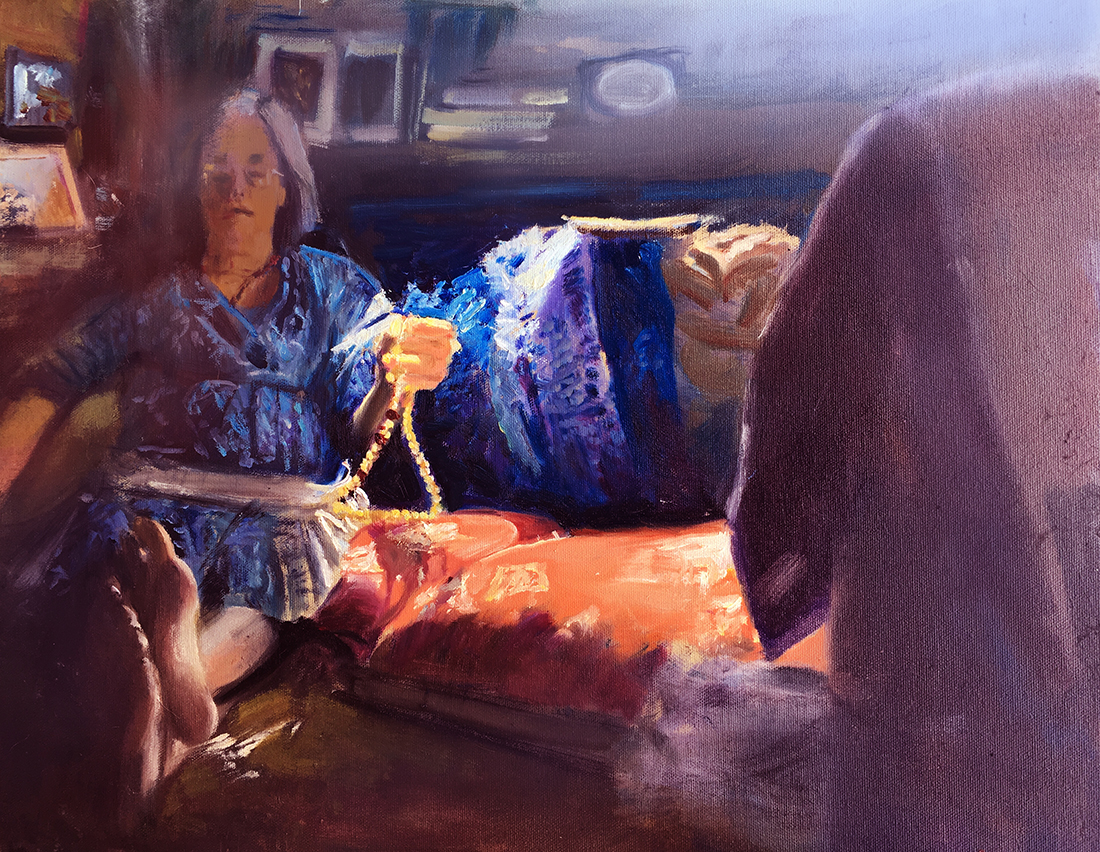 "Recitation" by Nitya Brighenti
Artist Bio
Nitya Brighenti is an Italian American painter, architect and poet. He was born in 1949 in Marco, a site quoted by Dante Alighieri, in northern Italy. He graduated from the Institute of Architecture in Venice, Italy. He went on to teach perspective and architectural composition for several years in Triest.
Nitya's art career spans several decades and includes a wide array of mediums and styles.
In the 1960's, he painted cubist tableaux inspired by the work of Picasso. In the 1970's, his works showed contamination of "Arte Povera", the use easily available materials, replacing commercial brushes, fine art colors and canvas with hand-made knives and industrial paint on cardboard and wrapping paper.
In the 1980's, Nitya organized several public performances combined with exhibitions and documentation: "St. George and the dragon" (Muggia); "Contact" with actors of the Living Theatre (Trieste); "Ennagramma" on Gurdjeff's work (Turin).
He had a solo exhibition at Ferdinandeo Palace titled "The Body" in Trieste in 1985. In 1987, he relocated to New York City. Back to Italy, in Rovereto in 1991, he presented a solo exhibition inspired by the work of Giordano Bruno, at Galleria Pancheri.
He moved to the North Shore of Hawaii in 2002. Inspired by a strong interest in Turner and the texts of Ruskin, his work focused primarily in watercolor landscapes. His paintings were shown in Hawaii at the Academy of Arts, the Japanese Chamber of Commerce and the Shaefer Challenge.
In 2013, he presented the KGB Series at the Gallery on the Pali.
Followed in 2015 by an exhibition titled "Suso in Italia bella", at the same gallery.
In 2016, Nitya moved to Vermont.
In 2018 he organized a solo exhibition called "Storm: Nihilists, Anarchists, Populists and Radicals" at the Studio Place Art in Barre.
In 2020 a solo exhibition called "Of Cities and Deserts" by the State Art Gallery in Montpelier.
In 2021 an exhibition of recent oil paintings -with a sub-section presenting new work on Rembrandt - called "Of Openness and Closeness" by the River Arts Gallery in Morrisville.
Vermont artists interested in exhibiting their work at Barre Opera House Lobby Gallery, please call Michelle La Barge-Burke at (802) 476-0293 or email projects@barreoperahouse.org